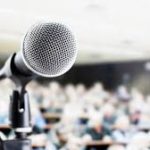 We are searching for a closing keynote speaker for mid-morning March 7th in Dallas, TX.
This is a non-fee engagement that may help bolster a rising-star's resume.
First consideration would in the CU or Symitar® industries. The gig could provide valuable networking within the credit union space and their core system vendor community. We may consider a speaker who is motivational and/or humorous in nature, clean in speech, and is preferably knowledgeable in the CU or technology spheres.